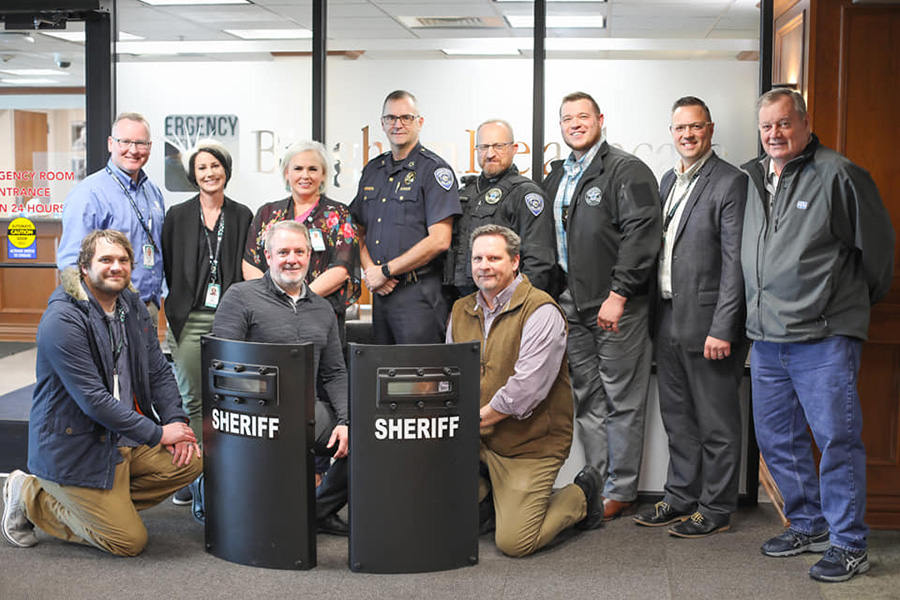 Bingham Health Care Foundation Donates a Ballistic Shield to Bingham County's Sheriff's Office
BLACKFOOT, ID – April 11, 2023 – Recently, the Bingham Health Care Foundation purchased and donated a ballistic shield to the Bingham County Sheriff's Department.
"We at the Sheriff's Office would like to thank the Bingham Health Care Foundation for the donation of the ballistic shield," said Lieutenant Gary Yancey from the Bingham County Sheriff's Office. "We will have these shields strategically placed throughout the county so they are accessible to all deputies responding to any high risk situations. We plan on placing them in schools to help us be prepared and to have them ready for a quick response to any high-risk situation.
"I have an office full of dedicated Deputies that are here to protect the community, and this will give us an extra opportunity to make sure they can go home safe to their families. Again, we say thank you as we all can see the rise in violence across the country. These shields will be added tools to help keep our communities safe."
The shields are about 3-feet tall and about 2 ½ inches thick. Law enforcement agencies say they're vital for protection. The Bingham Health Care Foundation is proud to support our local law enforcement agencies through this donation, which was made possible through generous support from our physicians, employees, and our community.
"The mission of the Bingham Health Care Foundation is to develop relationships within the communities it serves," Jake Erickson, CEO of Bingham Healthcare said. "We understand that the Bingham County Sheriff's Department puts their lives on the front lines to keep our community safe. We wanted to do this for them to give back and protect their lives."
Return to Articles