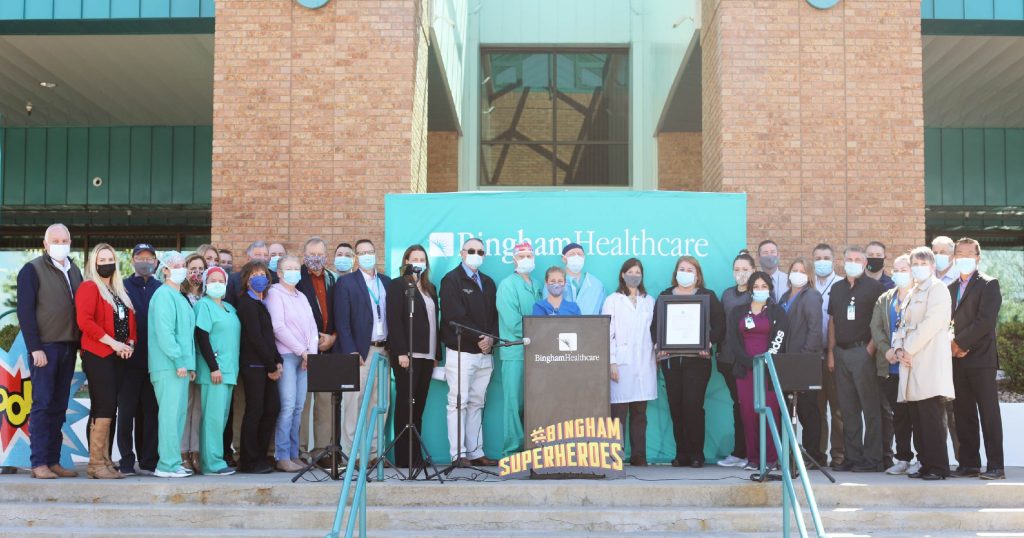 Bingham County Commissioner Issued a Proclamation to Honor Healthcare Workers
BLACKFOOT, ID – May 10, 2021 – Today, on the front steps of Bingham Memorial Hospital in Blackfoot, Jessica Lewis, Bingham County Commissioner, made an official proclamation to honor healthcare workers. Commissioner Lewis's reading of the proclamation came in the midst of the yearlong battle against the COVID-19 pandemic, in which healthcare workers have played a vital role on the frontlines of that fight. The presentation coincided with National Nurses Week (May 6-12) and National Hospital Week (May 9-15).
"National Nurses Week and National Hospital Week are a time to highlight the work of nurses, hospitals, health systems, and healthcare workers for the innovative ways they support the medical needs of community members, especially during the pandemic," said Jake Erickson, CEO of Bingham Healthcare. "We were so grateful Jessica made this proclamation to lift the spirts of our employees and make them feel proud of the work they've done and will continue to do."
In addition to Jessica, Chairman Whitney Manwaring as well as Commissioner Mark Bair, were also in attendance and had signed the proclamation. Dozens of Bingham Memorial Hospital employees from all departments, members from Bingham's administration team and Board of Directors, and community members were also in attendance.
"We know how hard healthcare workers already work on a daily basis, 365 days a year," said Jessica Lewis. "But, on top of that, the way they have risen to the occasion and unwaveringly faced the Covid pandemic to keep our community safe and protected, we wanted to do something to show our support and respect for their actions. It was my honor to be able to present the county's proclamation this morning to honor the dedication, commitment, and courage of all healthcare workers—locally and worldwide—whose service has saved countless lives."
"This proclamation couldn't have come at a better time," said Carolyn Hansen, chief nursing officer at Bingham Healthcare. "Especially now, more than ever, this really means a lot to our employees. As we're just finishing up getting as many vaccines into Idahoans as possible, I'm so proud of how much everyone has stepped up and served our community. There are so many people to thank and a lot of people behind the scenes that don't always get recognized. I hope everyone in the Bingham Healthcare organization feels thanked and appreciated today for their amazing work throughout the past year."
TO READ THE PROCLAMATION, PLEASE CLICK HERE.
WATCH THE PRESS CONFERENCE BY CLICKING ON THE IMAGE BELOW.
Return to Articles