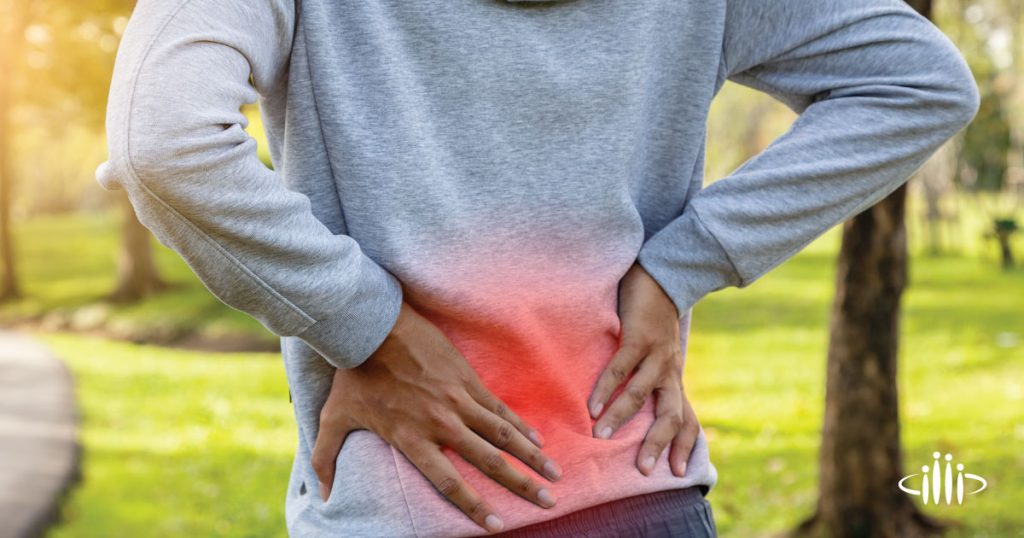 Back Pain Be Gone!
Instead of ignoring nagging back pain, try one of these solutions so you can get back to your life
Back pain may get you out of yard work or shoveling the driveway, but when it becomes more than just a handy excuse, it's time to take action.
Acute lower back pain is one of the top five most common reasons for all physician visits, according to the American Academy of Family Physicians. Robert Johnson, DO, a fellowship-trained orthopedic spine surgeon with Bingham Healthcare, says that although back pain is a common problem, you usually can keep it from ruling your life by recognizing the signs and symptoms and making appropriate, and simple, lifestyle changes. For most people, these conditions will improve with ice, mild painkillers, proper exercises, and physical therapy.
What You Feel: #1
Pain with activity such as lifting or twisting, stiffness or muscle spasm.
What It Might Mean: A muscle sprain in the back.
Try This: Ice the area. After the area has healed, start an exercise program under your physician's direction. Exercises that strengthen your legs and your core will help take the pressure off your back. "If you strengthen the foundation, you're going to have much less weakness all the way around," Dr. Johnson says. "It's important to correct the deconditioning that causes back pain and to also strengthen your body's weaknesses." If pain and swelling don't subside after a few days, it's important to see a doctor to rule out serious injuries.
What You Feel: #2
A tingling, dull aching, burning or pulsating sensation in any area of your back.
What It Might Mean: Disk pain caused by pressure or rupture between the vertebrae (herniated disk).
Try This: You will need rest and perhaps anti-inflammatory medications. Stretches can reduce pressure in the area and slow the progression. "The body has the ability to heal itself," Dr. Johnson says. "Exhaust conservative care first by implementing exercise therapy and improving nutrition."
What You Feel: #3
Pressure and pain radiating through the back of your thigh and leg.
What It Might Mean: Sciatica, caused by pressure (triggered, for example, by a slipped disk, spinal stenosis, or a pelvic injury) on the sciatic nerve, the longest and widest single nerve in the entire body.
Try This: Treatment depends on the underlying cause of sciatica. Muscle treatments such as massage can break up adhesions that contribute to nerve pressure. This allows the nerve to move freely throughout the muscles again. "If it doesn't improve, an MRI will need to be taken to determine the cause," Dr. Johnson says.
What You Feel: #4
General pain and weakness in the body, including in the arms and legs.
What It Might Mean: Spinal stenosis, a narrowing of the spinal canal that may put pressure on the spinal cord.
Try This: Check with your doctor, and, if appropriate, begin an exercise routine to strengthen your core, which helps prevent back pain in the future. Proper form is key, so you may want to ask your physician for a referral to a physical therapist or hire a personal trainer. "Doing activities in a compromised position will lead to further problems," Dr. Johnson says.
Dr. Johnson is a fellowship-trained orthopedic spine surgeon with Bingham Healthcare, who treats people with a wide variety of spinal conditions of the neck and back. His primary goal as a physician is to help patients obtain some relief from their aliments so they can keep doing what they love, and he strongly believes in exhausting all conservative means to treat a wide variety of spinal conditions of the neck and back before suggesting surgery.
He also specializes in several areas of spine surgery, including cervical and lumbar spinal arthroplasty, which are surgical procedures that involve removing damaged or degenerated cervical or lumbar discs and replacing them with an artificial disc device.
If you're suffering from chronic neck or back pain, you can schedule an appointment with Dr. Johnson at: (208) 235-2277. Se habla Español
To learn more about Dr. Johnson, visit: BinghamMemorial.org/Robert-Johnson
Our content is reviewed regularly and is updated when new and relevant evidence is made available. This information is neither intended nor implied to be a substitute for professional medical advice. Always seek the advice of your physician or other qualified health provider prior to starting any new treatment or with questions regarding a medical condition.
Return to Articles