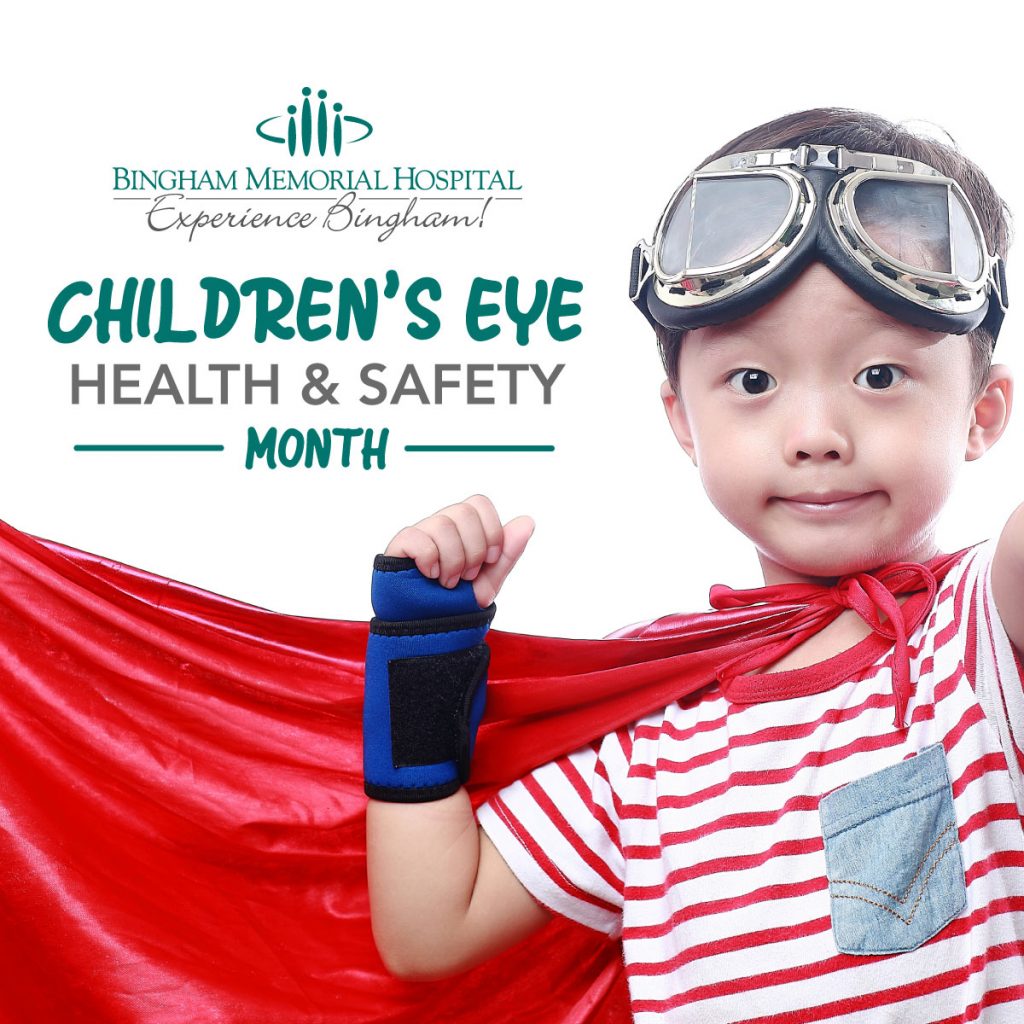 August is Children's Eye Health and Safety Month
One in 20 children—ages 3 to 5—has a vision problem that could become a permanent problem if left untreated, according to Consumer Health Digest. And, despite this unsettling statistic, 80% of preschoolers do not receive an eye screening. As you begin to schedule end-of-summer health appointments, make sure to include an annual eye screening. A good place to start is with your primary care physician; they can do an initial eye exam during an annual physical and then refer you to an eye doctor if necessary.
August is dedicated to preventing eye injuries and vision loss and saving children's eyesight.
This month, we'd like to provide parents with some information on how to protect your child's eyesight and save your child's eyesight from vision threatening conditions through regular eye exams.
WHEN TO START AN EXAM FOR A CHILD
Children should have an eye exam at 6 months and this must be repeated at age 3. Once they start school, eye exams must be done regularly. About 80% of what children learn in school is taught visually, which means if a child has undetected and uncorrected vision problem, it will affect the child's development and performances in school.
WARNING SIGNS THAT COULD INDICATE VISION PROBLEMS
Some warning signs that your child may be experiencing vision problems are:
Closing one eye to read or watch TV.
Consistently using his/her fingers to guide eyes when reading.
Excessive tearing without any tear-causing stimuli.
Eye discomfort when using a computer or any digital device (i.e., digital eye strain).
Frequent eye rubbing when a child is trying to concentrate on something.
Holding a book too close to their eyes or often sitting close to the TV.
Sensitivity to light, which sometimes accompanied by headache or nausea.
Tilting the head or squinting to see the class board better or when watching TV
Wandering eyes.
EYE SAFETY
Unfortunately, preventable eye injuries are the leading cause of vision loss in kids. Nearly 30,000 sports-related eye injuries are treated in U.S. emergency rooms each year, according to the American Academy of Ophthalmology (AAO). The good news is that 90% of serious eye injuries could be prevented by wearing appropriate protective eyewear.
The AAO reports that basketball was the leading cause of sports-related eye injuries in the United States followed by baseball, softball, airsoft rifles, pellet guns, racquetball, and hockey. All of these activities and sports have different levels of risk for eye injury. Parents, make sure that your children are using the right kind of eye protection for each activity. Regular eyeglasses do not offer proper eye protection and in some cases can make an injury worse if they shatter.
NEED A PRIMARY CARE PHYSICIAN?
Bingham Healthcare Family Medicine has a growing number of family medicine specialists located throughout Eastern Idaho. To find a provider in Blackfoot, Idaho Falls, Shelley, or Pocatello, please visit www.BinghamMemorial.org/Family-Medicine or call (208) 785-4100.
WE'RE HERE FOR YOUR FAMILY
In case of an emergency, please call 9-1-1 or go directly to an emergency room nearest to you.
Emergency Room
98 Poplar St.
Blackfoot, ID 83221
(208) 782-3406
Open 24 hours a day, seven days a week.
Bingham Healthcare's Urgent Cares
If you are a loved one need medical care that does not require a trip to the ER, all of our urgent cares throughout Eastern Idaho are currently open. However, for non-emergent situations, Bingham Healthcare has urgent cares at the following locations throughout Eastern Idaho:
BLACKFOOT
1st Choice Urgent Care & Family Medicine
Riverside Plaza (across from McDonald's)
1350 Parkway Drive
Blackfoot, ID 83221
(208) 782-2410
Hours of Operation
Mon. to Fri.: 8 a.m. to 8 p.m.
Sat. & Sun.: 10 a.m. to 6 p.m.
IDAHO FALLS
Ammon Medical & Urgent Care
3456 E. 17th St., Suite 125
(located near the corner of 17th St. and Ammon Rd.)
Ammon, ID 83406
(208) 529-2828
Hours of Operation
Mon. to Fri.: 8 a.m. to 8 p.m.
Sat. & Sun.: 10 a.m. to 6 p.m.
SHELLEY
275 West Locust
Shelley, ID 83274
P: (208) 357-3960
POCATELLO
1st Choice Urgent Care – Bannock Highway
1595 Bannock Highway
Pocatello, ID 83204
(208) 239-6511
Hours of Operation
Mon. to Fri.: 8 a.m. to 8 p.m.
Sat. & Sun.: closed
Our content is reviewed regularly and is updated when new and relevant evidence is made available. This information is neither intended nor implied to be a substitute for professional medical advice. Always seek the advice of your physician or other qualified health provider prior to starting any new treatment or with questions regarding a medical condition.
Return to Articles