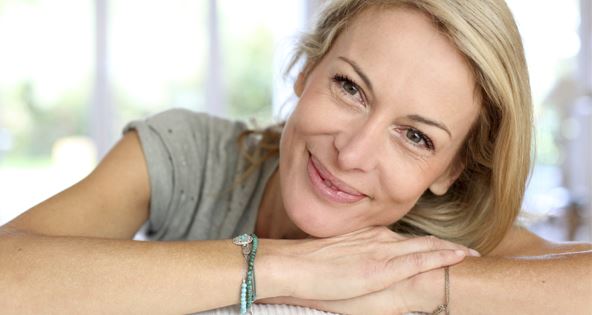 4 Menopause Myths Debunked
Beyond the jokes and the "Menopausal women are hotter" coffee mugs, today's women are serious about understanding menopause. Female baby boomers—the nearly 40 million women born in 1946 through 1964—are in their early 40s to 60s. And they're armed with better knowledge than ever and empowered about their healthcare. Still, the landscape of hormones, herbs and hot flashes can be hard to navigate. See which menopause rumors we've exposed.
RUMOR: Because I'm in perimenopause, that means I can stop using contraceptives.
The Truth: In perimenopause—meaning "around menopause," a transitional time when estrogen levels erratically decline—your pregnancy chances are low, but still do exist. Your ovaries are releasing eggs, albeit irregularly.
RUMOR: For my hot flashes, I can use herbs that contain natural estrogen.
The Truth: Scientific support is lacking for estrogen-like substances in soy foods and supplements and herbs such as black cohosh. If a woman takes multiple natural products, the substances can add up to dangerous levels. If a woman wants to try one product, it is probably safe, though, nothing more than a placebo effect will likely occur.
RUMOR: Hormone therapy isn't safe. I don't want anything to do with it.
The Truth: For most menopausal women, the benefits of estrogen therapy and estrogen-plus-progestogen therapy at low doses are remarkably safe. But confusion and fear linger after the big headlines of 2002 and 2004 when the Women's Health Initiative halted two hormone therapy trials, citing breast cancer and stroke risks. Those small risks don't apply to most women in perimenopause who use the hormones for one to three years.
RUMOR: It hurts to have sex. Maybe I should give up on it. There is some truth to this: As estrogen declines, the walls of the vagina become thin. But the treatment, local vaginal estrogen, is so simple that it's a shame more women don't bring it up with their doctor.
IN A FLASH
The most common menopausal symptom is hot flashes, when blood vessels near the skin surface suddenly enlarge to get rid of body heat. Pulse may increase, and at night, perspiration may greatly increase. Reduce discomfort with these tips from the North American Menopause Society: Avoid common triggers: stress, caffeine, alcohol, spicy foods, tight clothing. Use fans to cool off, day or night. Take slow, deep breaths at the onset of flashes. Wear loose, cotton clothing.
EVERY WOMAN. EVERY AGE.
The Bingham Memorial Women's Center offers qualified obstetricians and gynecologists (Ob-Gyn's) and women's health specialist to care for all of your women's health needs. If you or a loved one have any questions about perimenopause, menopause, or associated symptoms, please call our office to schedule an appointment with any of our caring physicians at (208) 782-3900.
Our providers see patients in Blackfoot, Idaho Falls, and Pocatello.
For more information on each of our providers, please visit: BinghamMemorial.org/Womens-Health
Return to Articles