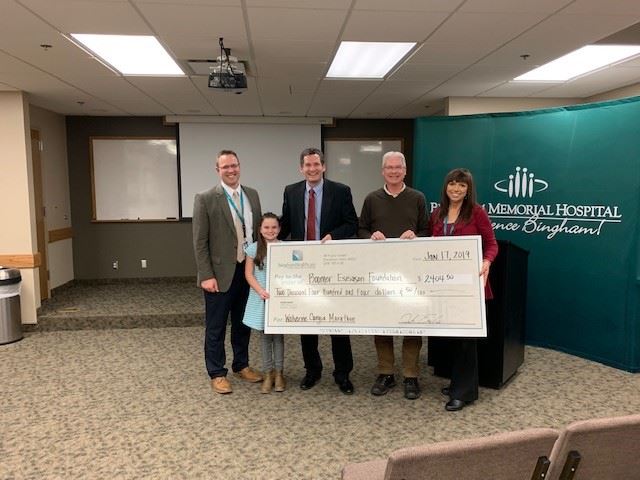 2018 Wolverine Canyon Marathon Raised $4,809 for Cystic Fibrosis
BLACKFOOT, ID – January 17, 2019 – Last August, the Bingham Health Care Foundation and the Blackfoot Rotary Club teamed up to bring the second annual Wolverine Canyon Marathon to Blackfoot to generate awareness about cystic fibrosis. The marathon was successful; 248 people registered and participated and $4,809 was raised.
Today, representatives from Bingham Memorial Hospital (BMH) and Danette Roberts, director of the Bingham Health Care Foundation, presented checks to the following organizations.
The Drollinger family of Shelley, Idaho, received a check for $2,404.50 on behalf of the Boomer Esisason Foundation for cystic fibrosis. They will then donate this money to cystic fibrosis related causes.
The Blackfoot Rotary Club received a check for $1,202.25.
The Bingham Health Care Foundation received a check for $1,202.25.
"Our charity runners are truly an inspiration and demonstrate the devotion and perseverance that runners share," said Roberts. "Giving back to the community and changing lives is extremely important to me and the participants. We are thrilled to continue to raise awareness for cystic fibrosis."
According to the Cystic Fibrosis Foundation (CFF), today, approximately 30,000 people in the United States have cystic fibrosis, which is a rare, genetic disease that causes severe damage to the lungs and digestive system. https://www.cff.org/
Emersyn Drollinger, from Shelley, Idaho, and her family were some of the most enthusiastic supporters of the marathon. Nine-year-old Emersyn was diagnosed with cystic fibrosis at birth and competed in the Wolverine Canyon Marathon. She's a busy third grader who loves riding her bike and reading—especially the Harry Potter and Charlie Bone series! In addition, she's currently learning to sew and loves to draw, write, and create artwork. Most of all she loves cross-country running.
To read Emersyn's full story, visit: https://binghamhealthcare.org/Health-News/cystic-fibrosis-a-reason-to-run
Since the Wolverine Canyon Marathon started in 2017, participants have raised more than $21,256 for local, national, and global causes.
For information about the 2019 Wolverine Canyon Marathon, visit: http://wolverine.run/
About the Bingham Health Care Foundation
The mission of the Bingham Health Care Foundation is to develop relationships within the communities it serves, to highlight awareness and access of care, increase the knowledge of healthy lifestyles, and encourage funding sources to enhance health care services to community residents. The Bingham Health Care Foundation provides funds to improve the health of patients in Eastern Idaho. The foundation enjoys the support of generous donations from hospital physicians, BMH employees, and from the local community.
For more information on the Foundation, visit https://binghamhealthcare.org/about-bmh/bingham-health-care-foundation
Return to Articles