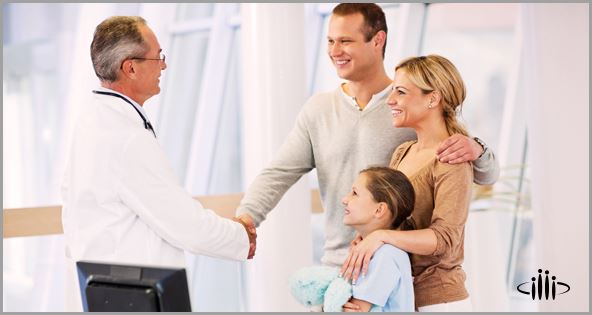 10 Reasons to Have a Primary Care Physician
It is highly recommended that people have a primary care doctor who knows you and your family well. Here are 10 compelling reasons why it's important for you and your family to have a primary care doctor (PCP).
Continuity of Care
When an entire family has an ongoing relationship with a primary care doctor, they get a better quality of care. They get to know you and your family over time, and, ultimately, know what is right and wrong for you because they are familiar with your lifestyle, your health, your family, and your medical history.
Health Education
You and your family will receive special attention from a primary care doctor. They are like "medical life coaches" and take the time to teach healthy lifestyle choices to help you and your family live the best possible lives.
Higher Level of Comfort
A primary care doctor is someone you can always feel comfortable voicing your concerns to and leave an appointment feeling as though you were really listened to. They will help you to become an informed and active member of your healthcare decision-making process.
Preventative Care
A primary care doctor understands preventative care. Like a dentist, they perform annual checkups to uncover any problems. The earlier health abnormalities are detected, the better chance you have at receiving treatments that could result in more favorable outcomes.
Health Management
They provide thorough health evaluations for the entire family—from infants to the elderly. These evaluations include: well-child visits for immunizations and sports physicals and wellness exams for men and women. These preventative exams can help detect high blood pressure, high cholesterol, heart problems, thyroid issues, diabetes, a variety of cancers, and so much more.
Advocate
A primary care doctor is a reliable and trustworthy resource to help you navigate the complex healthcare system.
Referrals to Other Medical Specialists
An experienced and well-connected primary care doctor will provide qualified assistance in finding the right specialist when required by illness or injury.
Coordination of Care
If a specialist is required, a primary care doctor can coordinate information between other healthcare providers, making sure there is no duplication of testing to help reduce your medical costs.
Better Patient-Doctor Communication
They are your first-line of defense if something is not right. They will take your phone calls and answer any questions you might have about a pressing medical issue. They can assess the urgency of most medical problems and will direct you to the best place for that care.
Longevity
They look at the "big picture" of you and your family's health. Overall, having a primary care doctor will keep you as healthy as possible as you navigate through the many stages of life. Studies show people who regularly visit a PCP have longer, healthier lives.
NEED A PRIMARY CARE PHYSICIAN?
Bingham Healthcare Family Medicine has a growing number of family medicine specialists located throughout eastern Idaho. To find a provider in Blackfoot, Idaho Falls, Shelley, or Pocatello, please visit BinghamMemorial.org/Family-Medicine or call (208) 785-4100.
Our content is reviewed regularly and is updated when new and relevant evidence is made available. This information is neither intended nor implied to be a substitute for professional medical advice. Always seek the advice of your physician or other qualified health provider prior to starting any new treatment or with questions regarding a medical condition.
Return to Articles